The Meep Girls!!
Edit
The Girls Of Meepland usually stick together, but sometimes fight, but together they're forever. With creepy Katie, sweet Daisy, smart Sara and their friends they're obviously be good friends (or enemies) in the future, so let's meet the girls of Meepland!
B-day: Feb.12 (1 min older Diego)
Fave Color: PINK!
Pet: Booboo The Pig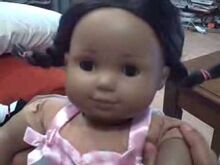 Loves: Making Crafts and Mac And Cheese
BFF: Katie Ceecelia
Hates: Sara and the gossip girls
Fun Fact: She's a diva and she knows it!
B-day: NUNYA BUSINESS!
Fave Color: NUNYA BUSINESS!
Pet: NUN (yah business!)
Loves: NUNYA BUSINESS!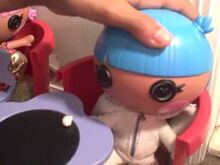 BFF: Pita
Hates: EVERYONE! including Isya.
Fun Fact: She can come in and out MeepLand whatever time she wants.
B-day: March 14
Fave Color: Orange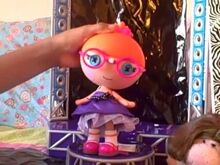 Pet: Book Worm
Loves: Paper and Pulling Pranks with Nunya And Pita
BFF: Scribbles
Hates: The Gossip Girls
Fun Fact: She ate a WHOLE Book, with Daisy's hamster and she pit them out!
B-day: April 1
Fave Color: Orange and Black
Pet: ?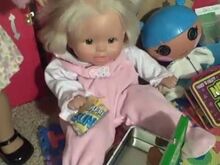 Loves: Scaring People and SUGAR!
Hates: Sara!
Fun Fact: She Doesn't comb her hair.
Katie is a professional boxer, as revealed in "Sleepless in Meepland". As a baby, she wasn't tough until she met Daisy. She has since colored her hair green and purple when she began 1st grade.
B-day: June 6
Fave Color: Every Color In The Rainbow
Pet: Funky Skunky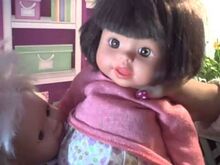 Loves: Reading, Writing, Math,  Apples and Her Nook
BFF: Every Teachers
Hates: Daisy, Katie and Nunya Bizness
Fun Fact: She is as Smart as Albert Einstein. (NOT!)
B-day: August 11
Fave Color: Green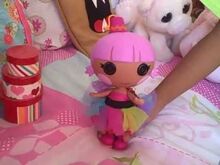 Pet: Squirmy The Wormy
Likes: Repeating People  
BFF: Nunya Bizness
Hates: Whatever you say
Fun Fact: Has gone 800 days repeating people.
B-day: April 15
Fave Color: Zebra Print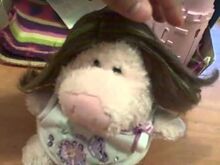 Pet: She is a PET!
Loves:Singing, Dancing and Brushing her wigs
DBF (Diva Best Friend): Daisy
Fun Fact: She can Turn Sweet to Sassy in a second.
Scribbles
Edit
B-day: Jan.28
Fave Color: Yellow
Pet: Nibbles The Giraffe
Loves: Painting and Cheese Doodles
BFF: Smartie
Hates: Erasers
Fun Fact: She works for Trinket Sparkles. 
Trinket Sparkles 
Edit
B-day: May 24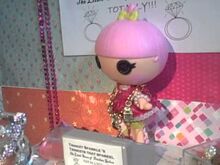 Loves: Pink, Diamond the Cat, Shrimp, and Her Store
BFF: Diamond
Hates: Nunya Bizness and Pita
Fun Fact: She owns Her Own Store. 
B-day: March 3
Fave Color: Yellow and Purple
Pet: She Doesn't Have a Pet
Loves: PUZZLES!
BFF: EVERYONE! :)
Fave Food: Broccoli
Fun Fact: Her Big Sister is Ivy.
B-day: Feb. 19, 2013
Fave Color: Unknown
Pet: Unknown
Loves: Waffles (food), Pancakes (character)
Hates: Emmie
BFF: Pancakes
Fave food: Waffles
Fun fact: Once swung on a "wrecking waffle". (wrecking ball)
Chrisa is the teacher of LE CHILDREN (the children are now in middle school)
Likes: CHILDREN
Dislikes: when people do NOT PAY ATTENTION!!!
Fav color: PURPLE???
Pet: nah....
Bday: we dont know lmao